 An Exclusive Community Only For Those Looking To Get The Most Out Of An Automotive Lifestyle
An Online Automotive Community & Members Area With Courses, Gear, Tools, Giveaways, Experiences, and so much more...
Get A 14 Day Free Trial To Our Carmaspeed Community + A Free Jet Tag Of Your Choice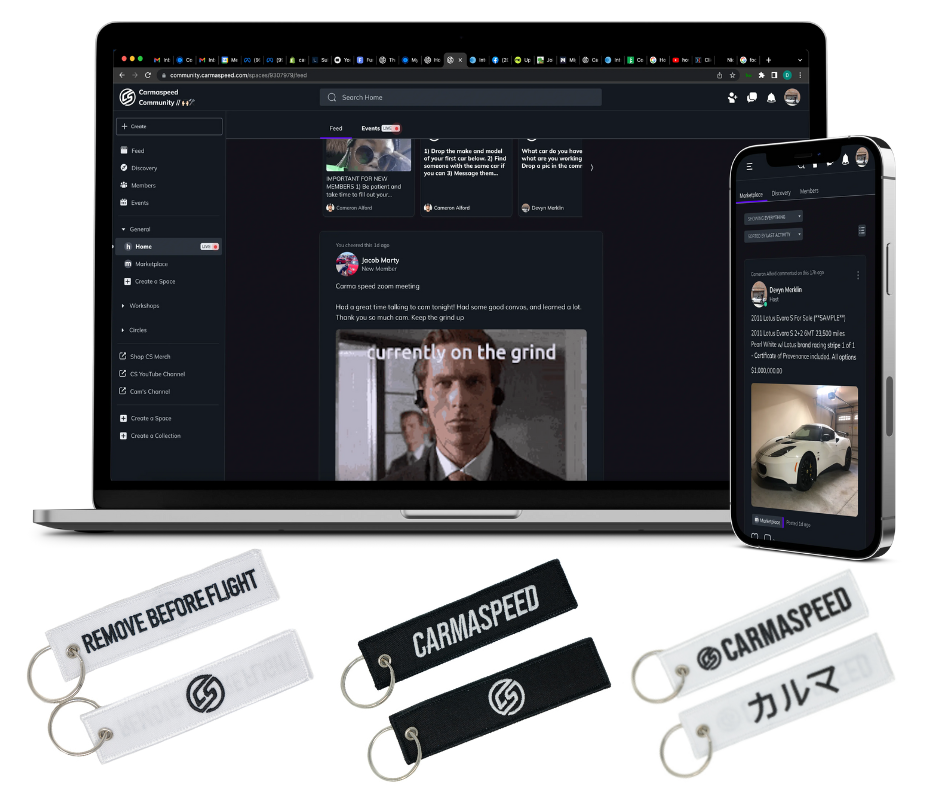 THE MISSION
The Carmaspeed Community Mission
This is Carmaspeed's initiative to bring together those who want the most out of their automotive lifestyle and those who want to work together to achieve their automotive dreams.
​​​Monthly Access To: Customizable profiles. Add a bio, update your profile picture, let others know what industry you're in, and more
​​Monthly Access To: Fully integrated messenger chat so you can talk with friends & the Carmaspeed team
​​Monthly Access To: Forum areas on all makes, models, projects, events, etc.
​​Monthly Access To: Shared resources. Get access to resources like schematics or step-by-step documents to help you on that next project
​Monthly Access To: ​Exclusive giveaways that we only open for community members
​​Monthly Access To: Courses & workshops
​Monthly Access To: Early access to new Carmaspeed products
​​Monthly Access To: Priority support chat
Monthly Access To: ​Live streams with the Carmaspeed team
Monthly Access To: ​​The Carmaspeed marketplace. Buy & sell amongst trusted individuals

We took the Carmaspeed Community and built an entire members area around it.
We Are About The Experience
Driving Super Cars Through The Colorado Mountains!
We took one lucky Carmaspeed Community Member with us to drive super cars through the Colorado Mountains in collaboration with Xtreme Xperience. We all got to drive cars from the brands: Merceds, Lamborghini, Ferrari, and Porsche! This was truly an amazing experience!
This Is A Place To Share Your Passion
The Carmaspeed Community is where we can all come together and share our passion for cars and truly live out an automotive lifestyle at the highest level!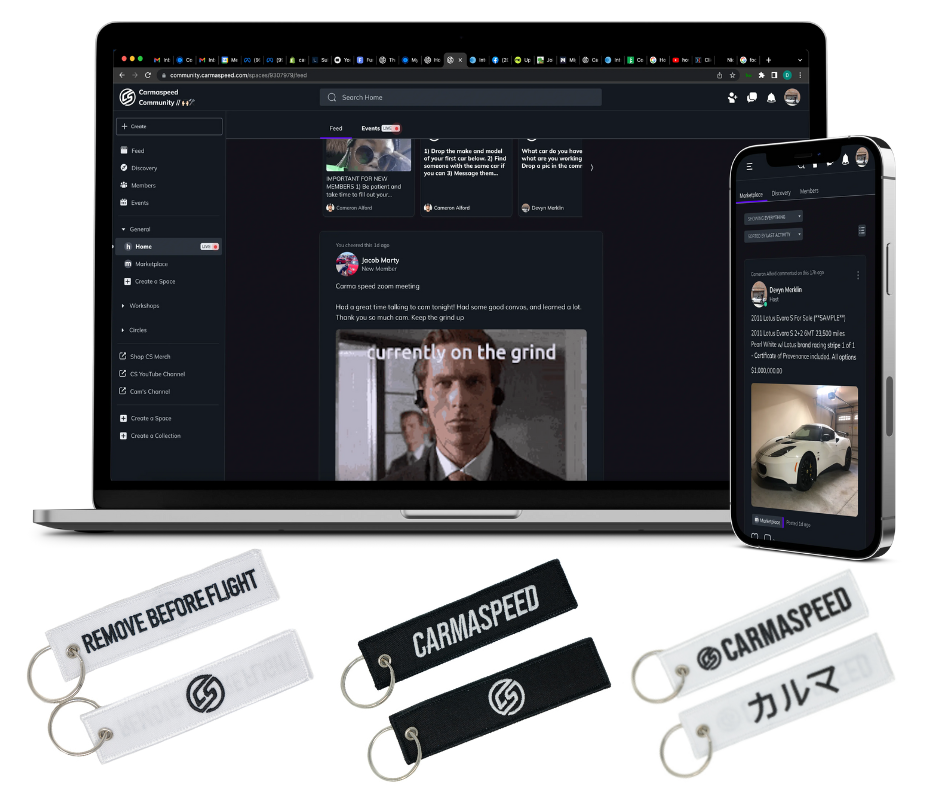 ​​​Monthly Access To: Customizable profiles. Add a bio, update your profile picture, let others know what industry you're in, and more
​​Monthly Access To: Fully integrated messenger chat so you can talk with friends & the Carmaspeed team
​​Monthly Access To: Forum areas on all makes, models, projects, events, etc.
​​Monthly Access To: Shared resources. Get access to resources like schematics or step-by-step documents to help you on that next project
​Monthly Access To: ​Exclusive giveaways that we only open for community members
​​Monthly Access To: Courses & workshops
​Monthly Access To: Early access to new Carmaspeed products
​​Monthly Access To: Priority support chat
Monthly Access To: ​Live streams with the Carmaspeed team
Monthly Access To: ​​The Carmaspeed marketplace. Buy & sell amongst trusted individuals
© Carmaspeed - All rights reserved